The one-step approach to professional bookkeeping.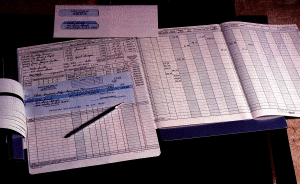 Data Business Systems carries a full line of compatible checks & forms for Safeguard, McBee, Deluxe and many more.
DBS also has it's own custom one-write systems. To order or for more information about one-write systems, visit
One-Write.Com
or
contact our sales department
.
"One-Write" business systems are designed to meet the bookkeeping needs of small and large businesses alike.
In offices that have not been computerized
, they save time and ensure accounting efficiency and control.
Benefits of the "One-Write" System.
Why bother with so many unnecessary hassles? One-Write reduces the headaches and errors while saving up to 75% of your bookkeeping time, Just write the check and all your records are automatically created and are current and up-to-date. No more copying from one document to another. And you can maintain tighter cash controls. Simple, accurate, painless.
Clerical time is reduced.
Specialized training is not required.
Expensive equipment is not required.
Standard forms and supplies are readily available.
Compact and portable.
Preparation of up-to-date records done quickly and accurately.
"No carbon required" paper produces clear, clean records.
Accurate records for auditing.
Flexible and can grow as user requirements increase.
A Pegboard is the only equipment required to align the "One-Write" forms. A row or rows of aligning pegs hold the forms in place for processing. A Pegboard also provides the hard writing surface necessary for information to be clearly transmitted from one document to the next.
One-Write Systems are available to handle all your bookkeeping requirements:
Accounts Payable
Disbursements
Accounts Recievable
Payroll
Cash Receipts